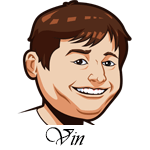 Follow @SBTSportBetting
[Get Exclusive Tips on our Patreon, Ad-Free
]
A big night in sports with the possible end to the NBA season. I have four tips for the NBA Finals on Patreon, one is below.
A 4-2-1 night in MLB last night. Tonight I have six picks on Patreon, four are below.
We are now posting some of our betting tips exclusively on Patreon, as well as posting exclusive betting tips there. Here is what you get by supporting us on Patreon:
Exclusive betting tips. Not just the tips omitted from these posts, but Vin will also be posting EVERY MLB System play and tips for every NBA Playoff game on there, and Graeme will be doing various non-EPL soccer tips.
Ad-free experience.
Priority e-mails; receive the e-mails as soon as the tips are posted rather than hours later.
Feeling good about supporting two guys who have worked their butts off writing sports tips on here for free for over 10 years. We promise only to spend it on beer and wings at our local sports bars!
Click here to support us on Patreon. Thanks!
Bet Horse Racing – +£21,565.98 profit on £25/pt staking. Click for more details.
(Advertisement but we have tested it out and have been quite impressed with it)
NBA Finals Game 6 Betting Tips:
The Celtics did it again. They absolutely crapped the bed in the fourth quarter. That's twice in this series. The Warriors played great, no doubt, but the effort and execution just completely fell apart in the fourth quarter for Boston and I'm not sure what to make of it.
Tatum cost us a prop in the last one as he finished with 27 points and we took over 27.5. He was hot early and then scored just five in the fourth quarter. He shot two-of-six from the free throw line.
Each team has looked amazing in this series, but Boston has put up two straight stinkers. So, what happens tonight?

Honestly, I think the pressure is on Golden State here. The thing about Boston is that you can't hold onto those performances for too long or take much stock in them. They've had multiple games in their series with Milwaukee and Miami where they looked like crap. The Milwaukee series saw them comeback and win the final two games to take the series.
They no-showed game six in Boston with a chance to clinch against Miami. Not taking anything away from any of these teams, but when their defense has been locked in and their offense hasn't made stupid turnovers there has been nobody better in these playoffs. They have the better defense and a major size advantage in this series, they just have to execute.
Will they? I think they will. Game four was a back against the wall moment for the Warriors, but this is something much more than that. This is back against the wall at the bottom of a well with twenty guns pointed straight at their heads. If they don't show up tonight they will never live it down.

Of course, Golden State knows that. One thing that has served them well is their experience and preparation in these Finals. They haven't gotten rattled and they know they are in for it. The question becomes: is Golden State at their best better than Boston at their best? I don't think so.
Besides all that, the NBA loves a game seven.
Celtics -4
I also have three more bets that I am making on tonight's game:



Bet Horse Racing – +£21,565.98 profit on £25/pt staking. Click for more details.
(Advertisement but we have tested it out and have been quite impressed with it)
Philadelphia Phillies at Washington Nationals Betting Tips:
PHI – Zack Wheeler 2.84 ERA/2.13 FIP
WSN – Patrick Corbin 6.65 ERA/4.56 FIP
People seem to expect this grand bounce back for Corbin that is never coming. He's not good, he gives up tons of homeruns, and his strikeouts are declining. The return is not coming. Philly hits lefties well and I think they hit him very well today. The bullpen has really struggled over the past two weeks.
Wheeler has been excellent and the Nationals are merely average against righties. The thing with Philly over the past few seasons has been their bullpen, but it has really been getting it done this year and is in good form right now.
Phillies -1.5 (-130)
Bet Horse Racing – +£21,565.98 profit on £25/pt staking. Click for more details.
(Advertisement but we have tested it out and have been quite impressed with it)
Tampa Bay Rays at New York Yankees Betting Tips:
TBR – Jalen Beeks 1.38 ERA/3.10 (Opener)
NYY – Luis Severino 2.80 ERA/3.45 FIP


Milwaukee Brewers at New York Mets Betting Tips:
MIL – Aaron Ashby 3.91 ERA/3.40 FIP
NYM – Tylor Megill 4.50 ERA/3.56 FIP
Do we trust Ashby after he allowed 13 hits and six runs against the Nationals? Right after allowing four runs to the Padres? No, we don't. That's two straight lowly offenses hitting him well and the Mets are not a lowly offense.
Do we trust Megill after he's allowed 13 runs in his last three starts? No, we don't.
Winds out to left at 10-15 MPH should help us out and get us an early over.
Brewers/Mets Over 4 Runs First 5 Innings (-120)

Texas Rangers at Detroit Tigers Betting Tips:
TEX – Martin Perez 2.18 ERA/2.72 FIP
DET – Beau Brieske 4.34 ERA/6.06 FIP


Los Angeles Angels at Seattle Mariners Betting Tips:
LAA – Shohei Ohtani 3.64 ERA/3.22 FIP
SEA – George Kirby 3.65 ERA/4.11 FIP
Been burned before here, but this is another one where the total is just too low. Ohtani is great, but he's had his struggles of late. The bullpen behind him is not very trustworthy and the Mariners offense is good.
Kirby has struggled as well and the Angels offense is filled with troublemakers. Going to sound like a broken record here, but Mariners bullpen bad.
Mariners/Angels Over 7 Runs (-116)
Bet Horse Racing – +£21,565.98 profit on £25/pt staking. Click for more details.
(Advertisement but we have tested it out and have been quite impressed with it)
Follow @SBTSportBetting